148TON Hot sale servo motor plastic injection...
Parameters
Description
Accessories
Application
SSF1480-S Parameters

Items

Parameter

Unit

SSF1480-S

Injection Unit

Screw diameter

mm

A

B

C

38

42

45

Screw L/D ratio

L/D

22.1

20

18.6

Shot volume(theoretical)

Cm3

226

277

318

Injection weight(PS)

g

206

252

289

Oz

7.2

8.8

10.1

Plasticizing Capacity

g/s

16

22

28

Injection rate

g/s

94

115

132

Injection pressure

Mpa

208

171

149

Screw speed

rmp

185

Clamping unit

Clamp force

KN

1480

Open stroke

mm

380

Distance between tie bars (W*H)

mm

410*410

Max mould thickness

mm

450

Min mould thickness

mm

160

Ejector stroke

mm

120

Ejector force

KN

50

Ejector number

PC

5

Dia of mould location hole

mm

125

Others

Max pump pressure

Mpa

16

Pump motor power

KW

13

Heating power

KW

9.3

Machine dimension(L*W*H)

m

4.5*1.35*1.9

Machine weight

T

4

Oil tank capacity

L

250
Notes:
(1)Theoretical injection volume=screw diameter×screw stroke;
(2)Actual injection weight is 91% of the theoretical volume;
(3)All the data is PS values.
Remark: Above-mentioned technical parameters are all theoretical values in 50HZ operation state. The technical parameters are subject to change for technical improvement without notice.
Mold platen drawing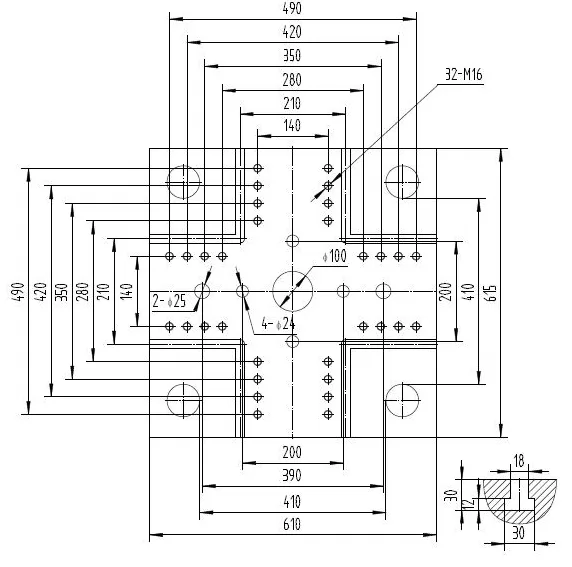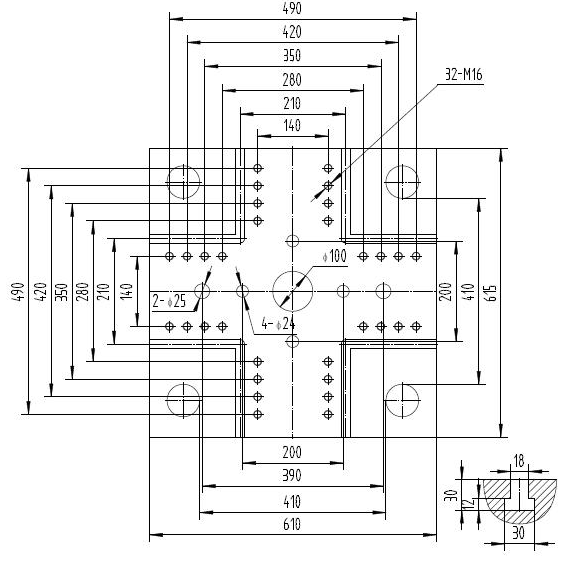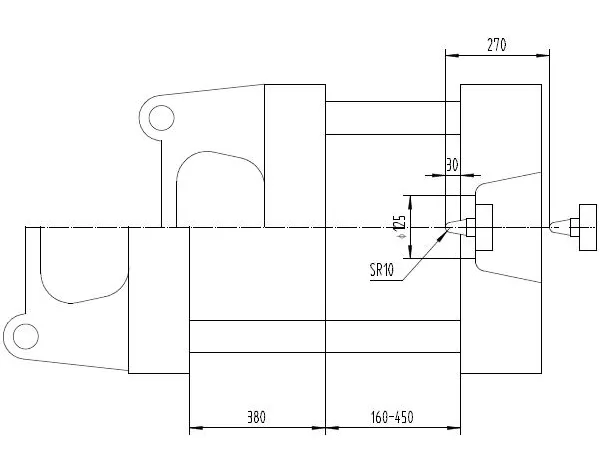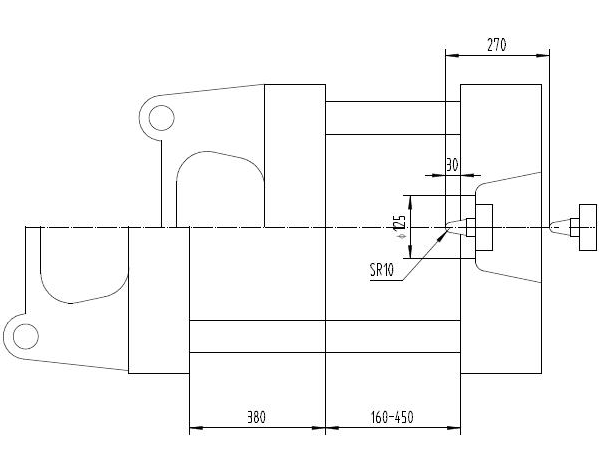 SSF1480-S injection molding machines, with energy saving features, applies to the injection molding process of various kinds of thermoplastics.
Advantages of servo motor
1.There is no extra energy consumption due to output volume changes according to load alteration. In the phase of holding pressure, servo motor lowers rotate speed and consumes a little of energies. In the phase of cooling, motor doesn't work and consumes no energy. According to different products, servo energy saving injection molding machines will save 20%~80% energy and bring you prominent economic benefit.
2.High precision, high response: The pressure sensor and rotary encoder with high precision and high sensitivity achieve pressure, flow closed-loop control, allowing the repeat precision error to be less than 1%. It only takes 0.05 second to reach the largest output power.
3.Save the cooling water: No constant flow pump and speed set motor overflow heating. When the temperature of hydraulic oil is lower, the cooling water is greatly reduced.
4.Super energy saving: Compared with variable pump system, it can save 40% of the power. Compared with constant flow pump and fixed speed motor. It can save 60% of the power.(Different kinds of products have different energy saving effects.
5.Low noise: The noise is below 78db. Servo motor has almost no noise when no movement of machine.
Standard features
Double-cylinder balanced injection system
Multi-stage pressure&speed injection
Back pressure adjustment device
Low pressure mold protection
Multiple hydraulic ejector knock-out
Mechanical, Electrical safety device
Auto lubrication system
Hydraulic pressure full proportional control
All computer control system
Mold data memory system (Can save 199 set molds data)
Standard components
Mechanical leveling pad
Extended nozzle
Spare parts (O-rings)
Tool box
Lubrication grease

Optional functions & Auxiliaries
Double air blast valve
Water regulation meter
Ceramic heaters
Water flow regulator
Three color alarming light
Euromap 12,67 robot interface
Oil bypass filter
Back pressure valve controller by computer
Hydraulic safety device
Robot
Hopper dryer
Auto loader
Hopper magnet
Mold clamps
Chiller
Plastic dehumidifier
Mold temperature controller
Oil temperature controller
Hardware industry plastic parts, electronic cover, glasses frame, packing products like PET performs, caps and daily used commodity, Stationery, PVC pipe fitting, Agriculture irrigation, Automobile parts.
Hot keywords: